Trifocal lenses are placed inside the eye to correct presbyopia and cataract problems. Trifocal intraocular lenses are called this because they allow you to focus well at all distances, near, intermediate and far. At the Vistalaser Clinics in Malaga and Granada we have been using them for years.
Types of intraocular lenses
Monofocal lenses: The first intraocular lenses to be implanted were monofocal lenses and provide the patient with a single visual focus. They are normally used for distance vision, in other words, the basic treatment for correcting cataract problems. The disadvantage is that they force the patient to wear glasses or contact lenses in order to see well up close.
Bifocal lenses: Then came bifocal intraocular lenses and toric lenses to correct astigmatism, with them more patients could benefit from this advance in ophthalmology. Better results are achieved, however the disadvantage is intermediate distance vision. When an object is neither close nor far away, it forces the person to have to move closer or further away to compensate and see well.
Trifocal lenses: Fortunately, ophthalmic technology is constantly evolving, and we have new ones every year. For some years now, we have had the AT LISA Tri trifocal intraocular lenses developed by Zeiss, an international leader in the field of optics. With these intraocular lenses the patient enjoys a full range of vision without the need to wear glasses or contact lenses. In addition, compared to older intraocular lenses, they further reduce the possibility of seeing halos at night, thus improving the patient's visual quality at night.
All three types of intraocular lenses are still implanted today. Single-eye lenses are implanted by the Social Security, while the others are implanted only in private clinics. When choosing a type of intraocular lens, the ophthalmologist will be interested in your lifestyle. We must take into account the work they do or what their hobbies are in order to choose the most suitable lens.
Naturally, if the patient prefers trifocal lenses, the problem with regard to lifestyle is reduced. They are undoubtedly an important step forward in achieving higher quality of vision. Nevertheless, the patient should bear in mind that a short period of adaptation is necessary. If after a few days or weeks you are unable to adapt because your brain cannot focus properly, you can always opt for another type of intraocular lens.
Cataract surgery patient with trifocal lenses
Surgery with trifocal intraocular lenses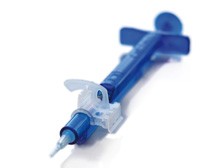 This type of lens is implanted through a micro-incision of less than two millimetres. With the help of an injector like the one we see in the image, we introduce the lens into the eye. The surgeon then uses the microsurgical instruments to place the lens in its final position
After a short and very safe operation you will be able to enjoy high-quality vision. You will be able to lead an active life without having to wear glasses or contact lenses. You also save on the costs of having to renew or repair them from time to time.
With the trifocal lenses which we implant in the eye, we can solve the visual problems caused by presbyopia and cataracts. They also allow us to correct frequent refractive problems such as myopia, hyperopia and/or astigmatism. In this way the patient is less dependent on glasses, in fact in most cases they are even forgotten because excellent results are achieved at all distances.
If you are under 55 and want to reduce your dependence on reading glasses, find out more. Trifocal lenses can correct your vision problems and also prevent cataracts from forming, as they replace the natural lens, which loses its transparency over the years.
If you would like more information about trifocal lenses for presbyopia and cataract, please do not hesitate to make an appointment at one of our centres, via the web or by telephone.